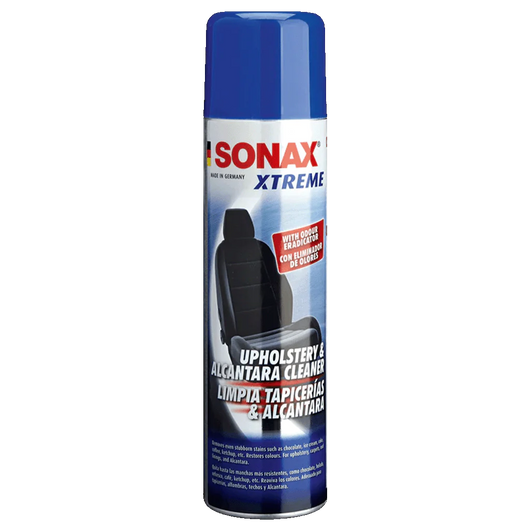 SONAX XTREME UPHOLSTERY & ALCANTARA CLEANER FOAM
Article No: 02063000
SONAX Xtreme Upholstery & Alcantara Cleaner is explicitly formulated to gently clean delicate Alcantara surfaces while also being an APC for all other textile surfaces in the vehicle.
Key Benefits
✓ Revives original Alcantara look, lifts the fibres.
✓ Cleans seats, upholstery, cladding, headlines, carpets, protective covers.
✓ Eliminates unpleasant smells such as cigarette smoke, animal odours and sour milk etc.
✓ Leaves a subtle fresh scent.
✓ Removes dirt and stains such as chocolate, ice cream, coke, coffee and ketchup etc.
✓ Refreshes colours.
PRODUCT DESCRIPTION
How to apply:
Spray soiled areas and gently work with a soft nylon brush, SONAX TEXTILE & LEATHER CLEANING BRUSH.

Let sit for 5 - 10 minutes.

Wipe off with a damp sponge/microfibre cloth, SONAX MICROFIBRE CLOTHS ULTRAFINE and leave to dry

Repeat for stubborn dirt/stains or foul odours.

Vacuum or brush.
Accessories you may also like to use with SONAX XTREME UPHOLSTERY & ALCANTARA CLEANER for optimum application results.
SONAX MICROFIBRE CLOTHS ULTRAFINE.

REVIEW US ON GOOGLE